Chriz Tong 湯薇恩's latest single, 《啡情歌》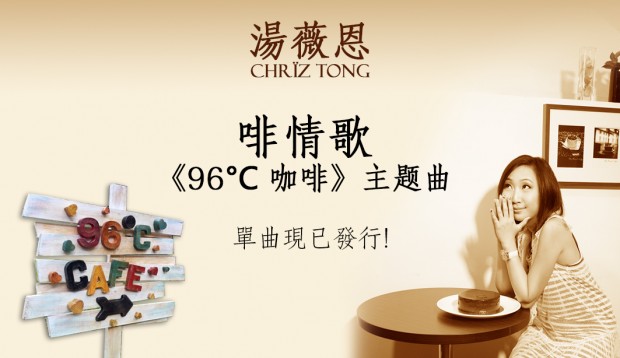 Have you been watching the local Chinese dramas recently? If you do, you would have notice the promotional videos for the webisodes of the latest drama series, 96°C Café 《96°C 咖啡》. 96°C Café is MediaCorp's first transmedia project with the same storyline told seamlessly over various platforms. It is an idol drama series stars Desmond Tan and Julie Tan, and revolves around a café owner, Liqiao, and his wife, Xijie. An 8-part web series, which debuts on xinmsn from 18 Feburary 2013, and a full TV drama which will soon unfold on 29 April 2013.
Chriz Tong 湯薇恩's new single, 《啡情歌》, is the theme song for the TV series of 96°C Café 《96°C 咖啡》, which debuts on 29 April 2013, weeknights 9pm on Channel 8!
Starring Desmond Tan, Paige Chua, Romeo Tan, Chris Tong, Tay Ping Hui, Julie Tan, Ian Fang, Lin Peifen, Pan Lingling, Jayley Woo, Adam Chen, Priscelia Chan, Cynthia Koh, Tracy Lee, Zhu Hou Ren, Wang Yu Qing and Jin Yin Ji.
合法下载原声带歌曲 Download Original Sound Track:
MeRadio Singtel IDEAS musicStore M1 Connecting Tones Starhub Music
您最近有在看最近本地的电视剧吗?你应该会注意到最新的网络剧集,《96°C 咖啡》的宣传视频。 8部网络剧集将于2013年2月18 在xinmsn播出,完整的电视剧,即将于2013年4月29日播出。
薇恩的最新单曲,《啡情歌》,是电视剧《96°C 咖啡》的主题曲,于2013年4月29日,周日晚上9 在 8频道播出!
陈泂江,蔡琦慧,陈罗密欧,童冰玉,郑斌辉,陈欣淇,方伟杰,林佩芬,潘玲玲,胡佳琪,詹金泉,曾诗梅,许美珍,李美玲,朱厚任,王昱青和金银姬 主演。
Supported by Media Development Authority (MDA)
新加坡 媒体发展管理局 鼎力支持